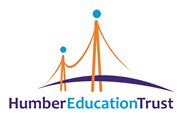 We are Humber Education Trust.
Our strength lies in a common purpose: high aspirations, moral values, care and support; yet celebrates our individual uniqueness. This is inclusion in its truest sense. We recognise that as every child needs different things to achieve the same end point, their full potential, so too do the schools that nurture and develop those children.
One size does not fit all.
Our commitment stretches across the breadth of our community with children firmly at the heart of all that we do. We are outward looking, embracing links with other education providers and agencies as we all seek the best outcomes for children.
We believe in innovative staff development opportunities at all levels, so that our teams enable our pupils and families to shine. We are passionate educators, both of ourselves and of others, prioritising resources to have the greatest impact, every minute of every day, on the children we serve.
We welcome challenge as this promotes positive change. Our determination to achieve the best outcomes for every individual means that we are relentless in our pursuit of excellence.
Only the best is good enough.
This is us. Humber Education Trust.
Where everybody counts, every moment matters.